THANK YOU FOR INVITING US TO PITCH FOR THIS PROJECT
Below is an outline of our previous experience and ideas for the project.
We have included examples of how the assets we create could be used within campaign collateral.
​
Our proposal is hosted online to best display the assets we have created, however if you have any problems viewing this page, a PDF version is available upon request.
Cinemagraphs, a cross between photography and video, are a unique and eye-catching way to grab an audience's attention. Used effectively they can be a really powerful marketing tool for websites and social media.
Below are some examples we created from a quick trip to Cromford Mill, with mock-ups of how these could be used as part of a marketing campaign.

Should we be commissioned for this project, we would aim to create a greater variety of cinemagraphs including people interacting with the spaces and the locations around the mills themselves.
A mock-up showing how the above could be used if integrated into the DVM website banner.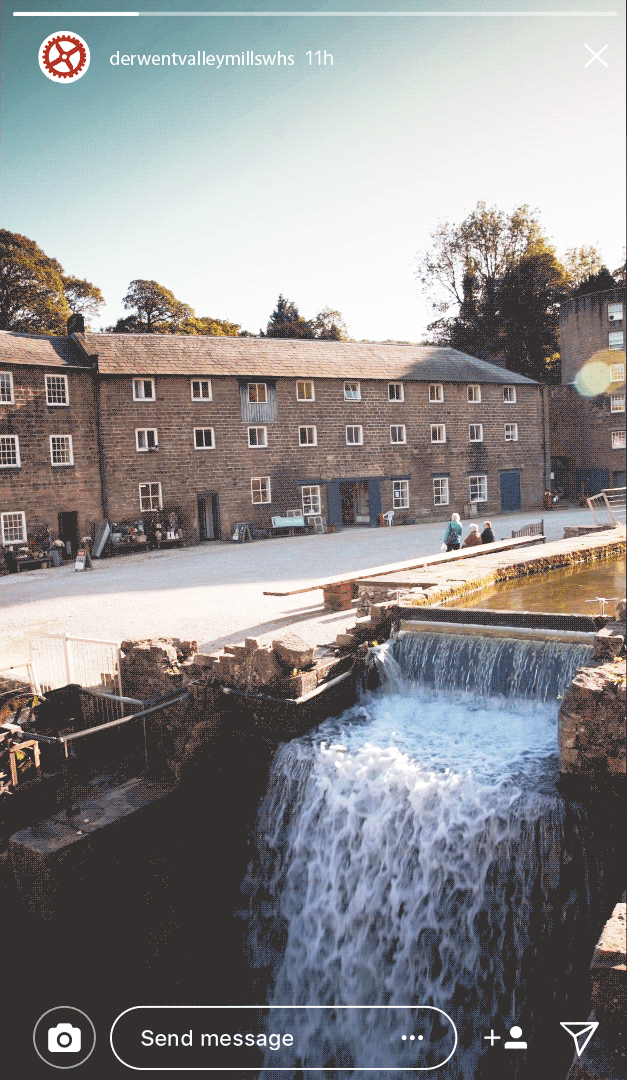 I was commissioned by Meadowhall Shopping Centre to create a range of cinemagraphs and stop motion animations to form part of their Spring Fashion campaign.


Below are some of the relevant assets created and how they were used in the campaign.
An example of a cinemagraph used on their website home page banner.
Another cinemagraph example used for a campaign post on Instagram.

- To produce video content that inspires the audience to visit and stay at the Derwent Valley Mills World Heritage Site
​
- To deliver assets that are beautiful, on-brand, timeless and can be used for years to come
​
- To convey a sense of discovery and awe
​
- To showcase arts, heritage, countryside and culture
​
- 1x approx 2-3 minute film.
- Short social media edits if required (to be discussed upon commission).
​
- Various aspect ratios for film and cinemagraphs can be provided so you can push suitably on social media.
Stylised use of camera footage will be assembled with a variety of editing techniques, using dynamic shots of people of all ages, interacting with each other and their surroundings, using a deep depth of field to show things happening in context, sweeping gimbal shots of our models experiencing the attractions and time-lapses to convey 'things in motion', to slow motion moments of wonder and discovery when a visitor is focused and engaged.
The Derwent Valley Mills have a wonderful aesthetic quality which we can highlight in the film through colour grading and a variety of shot choices.

We propose colouring the footage to subtly match the colour palette to the main block colours of the Derwent Valley Mills logo. Emphasising the warm brick red colour that industrial buildings are so synonymous with.

The mood board below demonstrates how this on-brand, vintage style could look.
FADED BLUE
An example of how palette colours can be reflected in model's clothes
FADED GREEN
Plants and trees can be coloured to match branding palette
BRICK RED
Warm red tones and soft blues will create an inviting feel to the sites.
Featuring warm brick red tones and faded blues and greens prominently will keep the film on brand and in-keeping with the campaign message, whilst adding a 'vintage' look. Shooting during early morning and late afternoon, we can capture the warm light, which will add a golden glow to the footage and create a nostalgic feeling for the golden age of Derwent Valley industry.
Alongside the Mills, we'll capture the best that the area has to offer in food and drink, places to stay, activities, events and culture and the impressive old railway stations and quaint cottages. We want to show the area is brimming with life and how much it has to offer to people of all ages.
​
​
​
Below are some recent examples of our relevant work​
The Peak District Boundary Walk​
​
Scenic and engaging, this is a great example of work showing things happening, with plenty of motion and people engaging in activities and the outdoors. In the DVMWHS video we'll have footage of smiling families, groups and friends, making memories together, interacting with the attractions and history that the DVMWHS has to offer.
​
Stanley Stories: Anna Potter​
Our most recent documentary project for outdoor brand Stanley. This mini documentary follows Anna Potter, a Sheffield-based florist and wild swimmer. The brief for this project was to capture high quality visuals/audio with an authentic feeling, painting an honest portrait with subtle product integration.
The Pennine Way - England's Great Walking Trails
Conveying a sense of discovery and awe. Showing off local places to eat and outdoor activities. We sourced local models for this film in order to create a story and sell the narrative of a perfect day out exploring the English countryside.
Cycling around Matlock - Pedal Peak District
This film shows some of the locations in the Derwent Valley that we will include should we be commissioned. This also demonstrated how map animations and text could be used to convey information and add context about the location of the Derwent Valley.
Time-lapse and hyper-lapse (moving time-lapse) are great ways to convey movement and bustling, busy locations. They work well as establishing shots - for example a sunrise time-lapse of a DV location could be used to convey a sense of waking up in the Derwent Valley. Please see examples below.
We have a good network of local people who are great models, both amateur and professional, who we've worked with on a number of film projects in the Peak District over the last few years. These include young families, older couples and people with disabilities, meaning we can represent a wide demographic base in the film.
We've got lots of experience working on projects with complex logistics and planning - organising people, locations, permissions and release forms. We're also based locally, so are completely flexible to work with the weather.
Plenty of space will be left around the subject to allow for advertising copy.

THANK YOU FOR CONSIDERING OUR PROPOSAL